Where:
SD Galleria + Sushi Lounge
, 4316 Main Street
When:
7pm, one Monday a month. As with EXP Bar's video game trivia, I'm not entirely certain of the dates. See their website below for the up to date information.
Web Presence:
The official website for the whole continent spanning operation is found here
, but the Vancouver-specific
twitter account
will give you better information regarding upcoming events in town.
Team Info:
6 people per team, but they don't enforce this at all - if you can fit around a table, you're golden. Also, this is one of the rare quizzes that has a fee! the first week was $5 per team, but it has since been upped to
$5 per player
. Officially the steepest entry fee in town, but check out the prizes!
Format:
Half quiz, half Simpsons love-in. 3 rounds of 10-20 questions each, with an intermission after each round where you watch an episode of a certain television show.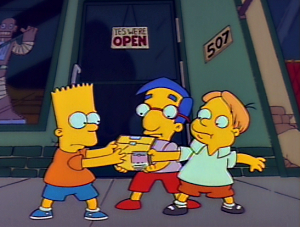 Who indeed?
Prizes:
Check this out! There's a whole boat of prizes to be won here, mostly through raffles. You can win things such as: Simpsons comic books, autographed by the talented
Nina Matsumoto
! Simpsons guest star action figures! A one-third obsolete Simpsons day calendar! $25 Gift Certificates to SD Galleria! An impressive display of more or less interesting swag.
But... what about the team that wins the whole thing? What about the Gay Robots From Star Wars, as the kings of trivia mountain were so named? Well, they get a reserved table for next week (see below), a pitcher of beer, and their entire team immortalized in a drawing by Bongo comics illustrator
James Lloyd
. Best prize in town? Very probably. I guess the only question is, who gets to keep it?
Food and drink:
The food is sushi and various other Japanese delicacies that you'll recognize if you've ever been out for sushi before. There is also a bonus menu with Simpson's themed dishes (Million Dollar Birthday Fries!A Galaxy of Prawns!). The drinks are ludicrously cheap, from their $3 Ryes to their $4.25 pints of White Bark. They aren't full pints, but that might help you out in the long run, especially at that price.
I've a friend, who shall remain nameless, even though he has a name. He lives in Toronto now, and has been frothing at every single orifice that one may politely froth over the fact that Toronto has a Classic Simpsons trivia night. It has been running there, and in cities throughout the United States for several years, and last month Vancouver was lucky enough to have Woo Hoo! Classic Simpsons Trivia open up a branch on the west coast. It is even polite enough to put on its show on a Monday, when there are relatively few quizzes to compete with.
The next order of business is an administrative warning. Even though it has only been around for 2 months, it is proving immensely popular. There were few seats remaining at 6:30, let alone 7. The place starts filling up around 6, so I suggest your team shows up early in order to guarantee seats for all. You can send someone down to hold a table, but you'll have a tough time reserving more than 5 chairs, and if you do manage to do so, you're probably an ass. But that's enough judgement for now.
The show goes along swimmingly with able hosts Simon and Leonard enthusiastically sharing MC duties before a captive audience. The enjoyment was widespread, although yr corrsp thinks that it was a little like shooting fish in a particularly crowded barrel, but he is a noted curmudgeon. A question I don't want to answer: Would people have less fun if everyone just gathered in a room and watched 3 episodes of the Simpsons without host or quiz? Somehow I doubt it.
That is not to slander the questions - they were fantastic. First off - it was all "Classic" trivia - i.e. seasons 1-9 i.e. the seasons you watched and loved. Also, the questions were all about on-episode content - gags, characters, plots, etc. Nothing about the creators or episodic ephemera, which means there will be no nasty surprises at their definition of trivia. There were few gimmies, and those were hilarious, so no one minded. A delightfully unique aspect to this evening was the post-question reactions. At most quizzes, a question is read, followed by (a) the muffled sounds of furtive discussions, or (b) stunned silence, based on whether or not a team knew what was up. Here the question would be met with either (a) howls of laughter or (b) the same stunned silence, which was excellent.
The difficulty ranged from easy-medium, to fiendishly hard. If you've only seen a few episodes and think you can remember who Homer's boss is, this is probably not for you, although you will still have a lot of laughs. But if you, like your humble author, grew up watching the Simpsons religiously at their 5:30 and 7:30 time slots, these questions will delight and challenge you. I can sense that you may want a brief taster, so I'll leave you with a sample of the fine work of Woo Hoo! Simpsons Trivia:
- True or False: Riding the monorail gives you mono?
- Name any 2 of Homer's lifelong dreams in the first 9 seasons.
- Troy McClure turned down the role of McBain's sidekick in McBain IV: Fatal Discharge to direct and star in what film?
Play "Taking Care Of Business!":
Do you enjoy watching the Simpsons? Come on down.
Yours truly